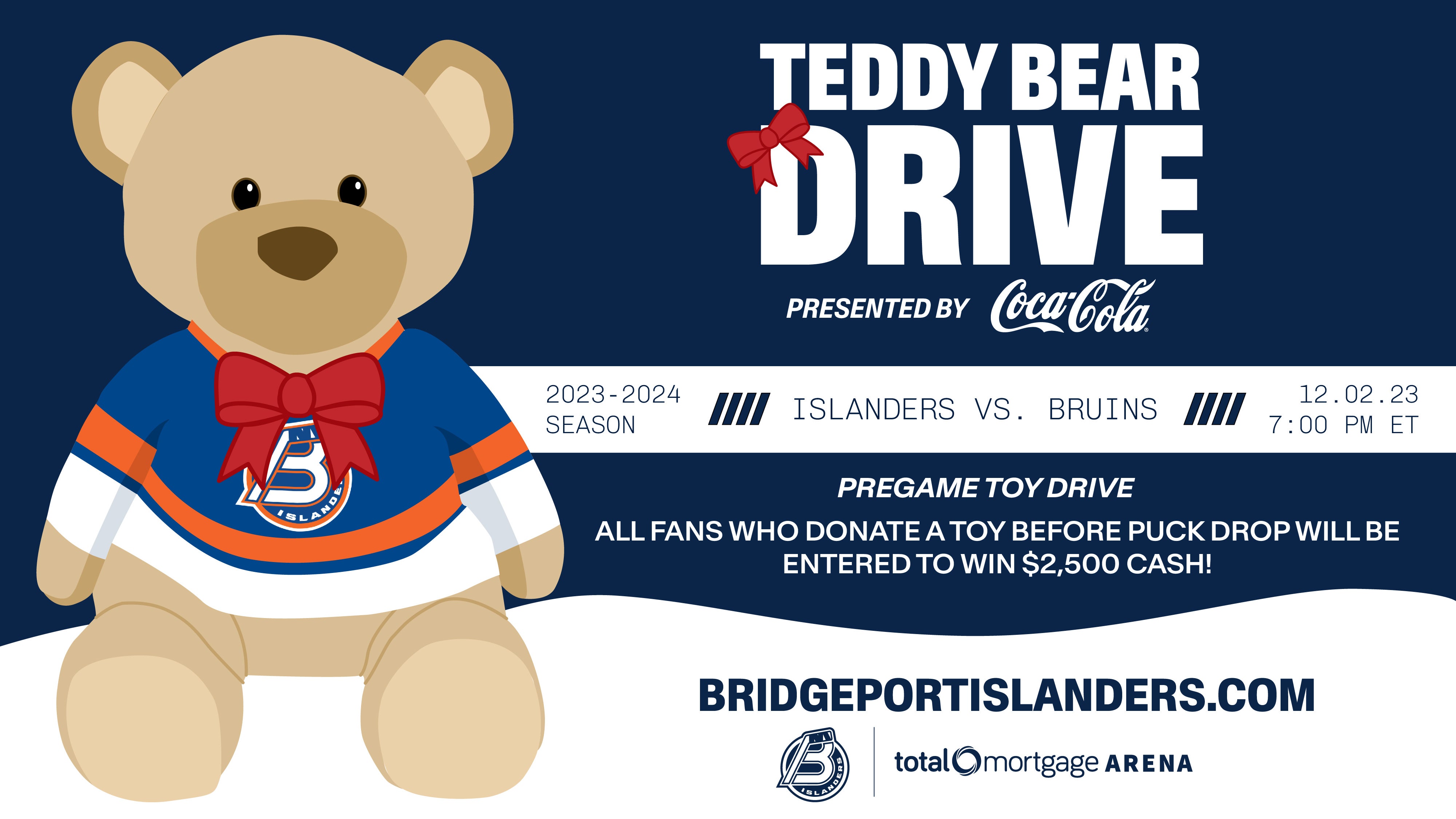 Teddy Bear Drive
Bridgeport Islanders vs Providence Bruins | 7 PM
On Saturday, December 2nd, join us for our Teddy Bear Drive, presented by Coca-Cola. Donate a teddy bear and receive a golden raffle ticket. When the Bridgeport Islanders score their first goal against the Providence Bruins, the Golden Raffle Ticket number will be announced on the videoboard, and the winner will go home with $2,500!
Buy Your Tickets Now
Whether you're looking to bring the entire family, or just want to catch a game with a family member, friend, or co-worker, we have the perfect ticket options to customize your hockey experience.
Golden Raffle Ticket

Each fan who donates a bear will receive a golden raffle ticket. After the first goal of the game, the winning raffle number will be displayed on the scoreboard and announced to the fans. The winner will head to the Isles365 table and will be awarded a $2,500 cash prize on behalf of our sponsor Coca-Cola.

Player Autographs

We're excited to host our second player autograph session of the season following the game. Player autographs are complimentary and will be held in the atrium for 20 minutes following the final horn.
Bag Policy

The Total Mortgage Arena bag policy is designed to enhance the safety of our fans entering Total Mortgage Arena as well as streamline the venue entry process to provide fans with a safe and enjoyable experience.

Bags will not be permitted at entry to Total Mortgage Arena, except for bags used exclusively for medical equipment or diaper bags for the care of infants and toddlers. Guests will still be permitted to bring a clutch purse into Total Mortgage Arena, provided it is 8" x 5" x 1" or smaller. There is no check-in location for prohibited bags or items at the arena.

If you have any questions regarding Total Mortgage Arena's bag policy, please click below.

BAG POLICY

Mobile Tickets & Cashless Venue

Total Mortgage Arena is a cashless venue and will utilize a cashless experience for all box office, concessions, and retail purchases. Credit and debit cards will be accepted.

All tickets for Total Mortgage Arena events will be delivered digitally and will be scanned from guests' mobile devices at the arena to maintain a contactless guest experience. Guests should have their tickets pulled up when they arrive at the doors. If necessary, staff will also be on hand at each entrance to help guests scan their tickets. Click below to access a tutorial on how to access your mobile tickets.

ACCESS TICKETS

Parking

Event-day parking is located on the surface lots across the venue between Lafayette St. and Broad St. Parking on event day is $15 by credit card only (additional fees may apply) or can be purchased online through Ticketmaster before the event. If you are interested in purchasing a parking voucher online, please click the button below.

Please note that parking is a separate transaction from your ticket purchase. Present this separate parking event voucher to the lot attendant for admission.

Additional event-day parking can be found in the Harbor Yard Transit Garage on South Frontage Rd. for $15 cash only.

BUY PARKING

Limerick Pub

The doors for Limerick Pub will open at 5:30 p.m. For those interested in arriving early, Limerick Pub allows fans a place to wait before the main doors open at 6:00 p.m. During this time, fans are not permitted to leave Limerick Pub and enter the concourse until 6:00 p.m.